Peter Tesei takes on Pathways…
Peter Tesei takes on Pathways, a success story of support for our vulnerable population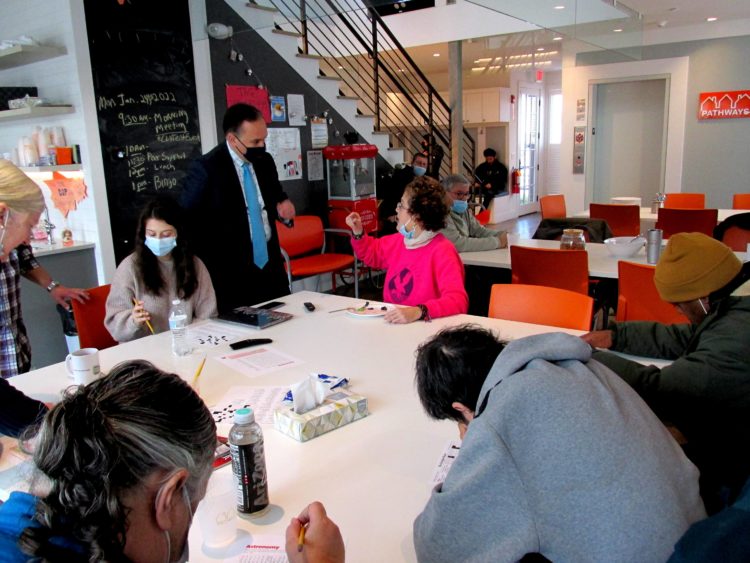 By Anne W. Semmes
Since last November Peter Tesei, who served a record six-terms as First Selectman of Greenwich, has taken on the mantle of executive director of Pathways, and is thriving. "I love people," says Tesei, "and Pathways is a people organization. Its mission is to provide housing and support services to people living with prolonged mental illness and these are people who are vulnerable and need support."
In his early days as a bank officer with Putnam Trust and BNY/Mellon Tesei had served Pathways and been aware of the challenges it faced in establishing its first group residential home on Davis Avenue. "Pathways has a wonderful history," he tells. "It's been a challenge each time they've come forward to provide additional housing."
Today, there are four group residences across town able to serve up to 40 individuals who suffer from schizophrenia, bipolar disorder, major depression, ages 20's to 70's. And in those four group homes that have various levels of professional care and housing – Davis Avenue, 175 Milbank Avenue, 509 East Putnam, and 50 Brookside Drive – Pathway clients are demonstrating they are able to progress in their mental health. Read more..
Rob Barricelli Shares his Inspiration for Serving Pathways Clients for 28 Years
By Anne W. Semmes
Throughout my tour of Pathways there was one name that cropped up often – Robert "Rob" Barricelli, the Senior Residential Counselor at Pathways. "He really is the historian for Pathways because he's been with us the longest – 28 years," told Pathways executive director Peter Tesei. "He takes the guys, anybody out walking. He takes a group out to Greenwich Point walking when he's here on the weekends. They go to baseball games." And likely Rob will take those keen clients to watch wrestling matches as Tesei plans to reach out to WWE for some tickets. So, no surprise on our Pathways tour when we entered its Success Club a client came up to Tesei asking, "Will Rob take us to see the wrestling?"
And each time I entered a Pathways group house there was an impressive fish tank. "Rob provides and maintains the fish tanks at three of our residences, and he's working on another for the Success Club," shared Tesei. Read more..
Former First Selectman Tesei Named Executive Director Of Pathways
GREENWICH, CT — Former Greenwich First Selectman Peter Tesei has been appointed as the executive director for Pathways Inc., a private, nonprofit agency in Greenwich that provides services for adults who suffer from severe and prolonged mental illnesses such as schizophrenia, bipolar disorder and major depression.
Tesei served a record six terms as Greenwich's chief elected official from 2007 to 2019. Upon leaving office, he established his own consulting business and assisted individuals, businesses and nonprofits with public affairs, project management and fundraising.
"I am looking forward to working with the dedicated staff at Pathways on behalf of the wonderful clients they serve," Tesei said in a news release. His role officially began Monday; he succeeds Laura Heckman.
"My respect and support for Pathways began when I met the founder Renee Bigler more than 20 years ago. Her passion, commitment and tireless advocacy are inspiring and I am excited to further the mission that she and the founding board members set forth 40 years ago," Tesei added.
Tesei was chosen from a pool of more than a dozen candidates, according to Pathways. During his time in office in Greenwich, Tesei instituted process improvements, customer service training, citizen-lead committees supporting youth, diversity, special needs communities, veterans, economic development, and coastal resources.
He spearheaded the development of the nine-acre Cos Cob Park and was instrumental in the rebuilding of the Central Fire Station, Glenville Elementary School and the Performing Arts Center at Greenwich High School, Pathways said in a news release.
Prior to becoming first selectman, Tesei, a fifth-generation Greenwich native and product of the public school system in town, was the Vice President with BNY/Mellon.
Tesei served on the Greenwich Board of Estimate and Taxation for 10 years, including six as board chair He began his community service at the age of 18, as the youngest member ever elected to the Greenwich Representative Town Meeting.
Presently, he serves as the Chairman of the Board of the Greenwich Symphony Orchestra.
Over the years, Tesei has scored many accolades, including awards from:
Cos Cob Fire Police Patrol Inc., Chabad of Greenwich, Food Bank of Lower Fairfield County, United Jewish Appeal, Malcolm Pray Friend of Eagles, University of Connecticut 40 under 40 and Fairfield County Business Journal 40 under 40.
"The Board of Pathways is fortunate to have found Peter, who is an experienced and distinguished leader with a depth of knowledge of our community and its institutions as well as a passion for the mission of Pathways," said Pathways President Tom Athan in a news release. "We are excited that Peter will be at the helm of Pathways supporting our dedicated staff in their service to our clients, using his decades of experience of listening, learning and leading."
Learn more about Pathways, Inc.
Brotherly love: Greenwich man takes over presidency at nonprofit that helps his sibling
GREENWICH — Tom Athan worked on Wall Street for more than a decade, ran a solar energy company for 10 years and now manages a leasing company.
But Athan also has experience navigating the mental health system. His only sibling, Alex Athan, has lived with schizophrenia for more than a decade. More
Pathways puts finishing touches on new Fellowship Center in Cos Cob
GREENWICH — The old Fellowship Center for Pathways was a "dreary old building" — an aging one-story structure in Cos Cob with small rooms and little space, according to leaders of the Greenwich-based organization that supports people with serious mental illnesses.
But the organization is now preparing to move into its new building at 8 Sinawoy Road, a project with a price tag of more than $1.1 million. More
Greenwich nonprofit offers a path for those living with mental illnesses
GREENWICH — Laura Heckman vividly recalls her cousin's first mental health crisis. They were together in her New York City apartment in October 2017 when he told her that he believed he was God.
"It's like a wall hits you, and it's impossible to hide," said Heckman, the new executive director at Pathways, a Greenwich organization that provides recreational and residential services to people living with severe mental illnesses.
Like many finding out about a loved one's diagnosis, Heckman had more questions than answers about her cousin's bipolar disorder. But as she watched him struggle with hallucinations and delusions, Heckman realized there was no quick solution.  More
Pathways breaks ground on new Fellowship Center in Cos Cob
GREENWICH — Supporters of Pathways, a Greenwich nonprofit that supports people living with chronic mental illnesses, broke ground Tuesday morning on its new Fellowship Center in Cos Cob.
The group demolished its former building at the same site and will now begin construction of its new 2,700-square-foot building at 8 Sinawoy Road. Construction is slated to take nine months to one year. More
Pathways makes way for new facility in Cos Cob
GREENWICH — For adults with chronic mental illnesses, a one-story doctor's office that felt like a warren of tiny rooms was not a good fit for learning guitar, doing creative writing and practicing yoga.
But since 2010, that has been the home for Pathways, which offers programs and housing for adults with severe and prolonged mental illnesses. The situation is changing this summer, however, with demolition underway of the old building, making way for a new, 2,700-square-foot space at 8 Sinawoy Road.
"That building was awful," said Susan Sternberg, a board member for Pathways, many of whose clients suffer from schizophrenia, bipolar disorder or major depression. "The last thing you want for mentally ill people is a depressing space."
The new building has been planned for a few years, Sternberg said. The project should take nine months to one year to be finished.
The new house will be two stories, with a "light, bright, open and uplifting" first floor and a second story going around the perimeter. The building will have a kitchen that will serve lunch.
"It will be a complete contrast," she said. "It is going to be so amazing for the clients we serve."
Pathways' day program is located in Cos Cob. The nonprofit also operates four group homes throughout town, creating safe and affordable housing for those who need it.
Some clients have jobs at Whole Foods or the YMCA, but some do not, so they take part in the programs at the center from 9 a.m. to 2 p.m., Sternberg said.
Currently, Pathways uses an extra room at one of its group homes in town for the daytime programs. The house at 509 E. Putnam, which Pathways bought in the 1990s, has room for 16 clients, but neighbors at the time protested and the town allowed 10 people to move in, Sternberg said.
"It's not ideal, but this way, we don't have to pay rent," to keep the day program going, she said….. More